Winning her first Academy Award at the age of 24, Audrey Hepburn went on to become one of the world's greatest cultural icons: a once-in-a-generation beauty, and legendary star of Hollywood's Golden Age, whose sense of style and pioneering collaboration with Hubert de Givenchy inspires catwalks today. But who was the real Audrey Hepburn?
Malnourished as a child, abandoned by her father, and growing up under Nazi occupation in Holland, Hepburn faced a life-long battle with the traumas of her past, which thwarted her dreams of becoming a ballet dancer, and cast a shadow over her personal life. Yet Hepburn found inner peace, using her superstardom for good as a global ambassador for UNICEF, and bringing her life full circle: first a victim of war, then a source of relief to millions.
A hybrid of rare archive, cinematic dance sequences, and intimate interviews with those who knew her best, this film brings a truly extraordinary woman to life, who stands as testament to the power of love and forgiveness.
Audrey Kathleen Hepburn-Ruston was born in Brussels into a wealthy aristocratic family, on May 4th 1929. Her mother, Baroness Ella van Heemstra, belonged to an ancient family of Dutch nobility, yet married Anglo-British businessman Joseph Ruston, who is to become Audrey's father. Foreshadowing a defining moment in her childhood that will leave its mark for the rest of her life, it is noted on Audrey's birth certificate that her father is 'not present'.
Audrey adores her father Joseph, and remembers her early childhood being one of privilege and security. Yet this will change drastically within the space of a few years.
By the middle of the 1930s, Europe is in turmoil. A growing fear of communism, coupled with mass unemployment and a sense of destabilisation after World War I, leads to Fascism becoming an increasingly fashionable political alternative. The Hepburn-Rustons become actively involved in raising funds and recruiting for the British Union of Fascists. Audrey's beloved father Joseph becomes increasingly radicalised, and more distant from his daughter.
In May 1935, Joseph walks out on his wife and six- year-old daughter. His disappearance had a huge impact on Audrey; later, she recognised it as the most traumatic event of her life. An emotional upheaval in Audrey's life is followed by a geographical one. Ella moves the family to Arnhem in the Netherlands, which she believes will be neutral ground, safe from Nazi invasion. She is mistaken. Nazis invade and the country is held under Nazi occupation. Audrey and her family are trapped in the unspeakable horrors of World War II, not knowing when it will end.

Audrey endures unspeakable trauma, along with millions of other children her age. The people she loves the most either abandon her, or are systematically taken away from her, and she is left with her mother who struggles to show any real affection and love. Audrey longs for her father Joseph, and wonders why he doesn't make contact. Everything is in turmoil and everything she has known has been lost – any semblance of security, peace, freedom and democracy she has enjoyed has been stripped away from her, and millions of other children her age. Yet Audrey adapts, and survives, and this seismic shift in her formative years becomes a recurring pattern throughout her life, manifesting itself as an infinite capacity for transformation.
Through the unspeakable darkness, Audrey's singular light begins to emerge. She begins to dance in secret productions to raise money for the Dutch resistance, learning to use her ability for theatrical expression as a tool for relief. Unlike her father, she didn't give into fear and hate, but chose to do what she loved, and fight against the Nazis in any way she could.
Audrey begins serious ballet training in the Arnhem School of Music while terror reigns in the Dutch streets. The strict and predictable nature of ballet gives her solace and structure in an otherwise ruthless and chaotic world. Famine sweeps through the country, killing at least 22,000 people, and Audrey and her family almost starve to death. Audrey survives off nettles, and drinks water just to feel full. She is 5'9 and only 88 pounds. She becomes very ill, suffering with acute respiratory problems, anemia and edema. But she keeps on dancing.
Suddenly, as quickly as it began, the war is over. Holland, on 5 May 1945, is liberated by the total surrender of German forces. Audrey stands in the streets watching the Canadian troops march through. She moves to London, earning a scholarship to train as a prima ballerina under Madame Rambert's instruction. She's safe, and doing what she loves. But her world is about to come crashing down again. Despite her talent, Madame Rambert tells her that her physical impairments caused by the war means she'll never be a successful ballerina. Audrey feels in that moment that her life was over, the war had taken everything from her.
To make money, Audrey takes up occasional modelling jobs, and small acting jobs, such as an extra role in One Wild Oat, as Frieda in Laughter in Paradise and as Nora in Secret People. She makes her film debut, playing an air stewardess in Dutch in Seven Lessons, an educational travel film. The landscape of her life is beginning to change and her passion for her art is growing.
Audrey lands her first major film role in Roman Holiday in 1953. It establishes her as a star and unexpectedly wins her an Oscar, Golden Globe and BAFTA for Best Actress. She fast becomes Hollywood's most sought after actress. The same year Audrey meets Hubert de Givenchy and so begins one of the greatest platonic love affairs of all time, with Audrey becoming his friend and muse until her death. Givenchy created hundreds of designs for Audrey throughout her life – all of her most iconic looks, from the little black dress of Breakfast at Tiffany's to the red gown of Funny Face. Givenchy is not the only one who sees something unique in Audrey. Photographers from all over the world fall in love with her image like with no other. She is followed by paparazzi everywhere she goes.
At that time, the role of women in society is being redefined. During the war, women had taken on roles that were usually for men, and post-war women were left questioning their identity. They had had their lives opened up and changed, new opportunities and possibilities had been presented to them. Audrey Hepburn's unique and unprecedented appearance, and ability to transform speaks to her female audience, and offers them an exciting and daring alternative.

Audrey establishes herself as a major figure in Hollywood. Fellow actor Mel Ferrer woos her relentlessly, and proposes marriage. They co-star on Broadway, marry in Switzerland a year later, and start trying for the baby Audrey so desperately wants.
But something is missing. Audrey still craves a loving relationship with her father Joseph. This longing is impacting her marriage. Mel tracks him down through the Red Cross, and encourages Audrey to reach out, but she resents his betrayal so much that she can't bring herself to take action.
Audrey's abandonment resonates throughout her life, and his seeming inability to love her, affects her own experience of what it means to love, and be loved. She has spent her time travelling the world 'looking for someone who will cuddle me', but Mel doesn't seem able to give her the affection she craves.
Audrey has a miscarriage, and becomes depressed. She gets top billing in War and Peace, which Mel resents: his career stalls while hers continues to soar. She gets pregnant again but falls off a horse and breaks her back, giving birth to a stillborn baby. As Audrey's marriage to Mel sours, she softens towards Joseph, starting to understand the myriad reasons why he might have left. She writes to him and they agree to meet.
Audrey gathers the courage to go and meet Joseph in Dublin. But seeing him for the first time in 25 years comes with the crushing realisation they will never have the relationship she has longed for all those years. Her father is emotionally distant, and unable to give Audrey the love she so desperately wants.
In 1963, Audrey gives birth to her first child, Sean. Yet her marriage to Ferrer can't survive the aching disappointment of her meeting with Joseph. In 1967, Ferrer and Hepburn shoot Wait Until Dark together, on the brink of divorce; Audrey loses 15 pounds due to the stress but still manages to give a performance that earned her Academy Award, Golden Globe and BAFTA nominations.
The pair divorce in 1968.
Audrey was deeply disappointed in the failure of her marriage. "When my marriage broke up… it was a keen disappointment. I thought a marriage between two good, loving people had to last until one of them died. I can't tell you how disillusioned I was. I'd tried and tried. I knew how difficult it had to be to be married to a world celebrity, recognised everywhere, second billed on the screen and in real life. How Mel suffered. But believe me, I put my career second."
A year later Audrey meets and marries Italian psychiatrist Andrea Dotti and she has a second son, Luca, in 1970. Audrey and Andrea stay together for 13 years, but much of this time is plagued by Andrea frequently having affairs with younger women. Audrey grins and bears it, staying with Andrea until she believes Luca is old enough to cope with the divorce. Another failed marriage, another disappointment, chipping away at Audrey's notion of unending love. But Audrey is a mother, and her love for her children sustains and fulfils her. "The one thing I dreamed of in my life was to have children of my own. It always boils down to the same thing. Not only receiving love, but wanting desperately to give it… almost needing to give it."
In 1980, Audrey meets Robert Wolders. Brought together at a dinner party, Robert is overcoming the recent death of his wife, and Audrey is trapped in an unhappy marriage. This shared feeling of disillusionment with life and love bonds the two together, as well as their harrowing shared experiences of Nazi-occupied Holland in World War II. As Robert explained, "We met at a time when we each had gone through trials, but we knew exactly what we wanted—togetherness."
Audrey and Robert's life is relatively simple and quiet, and they detach themselves from the glitz and glamour of Hollywood. Together they live in the foothills of the Alps, away from the glare of the paparazzi as much as possible, and begin a life of service, dedicating more and more of their time to UNICEF. In the years that follow, Audrey's commitment to UNICEF results in her retiring from acting, and she spends the last years of her life dedicated to helping and campaigning on behalf of children living in developing countries, from Bangladesh to Somalia. Her life coming full circle, Audrey, often with Robert by her side, makes numerous UNICEF field trips, visiting and drawing attention to life-saving initiatives, from projects providing drinking water in Guatemala, orphanages in Ethiopia, training programmes for women in Venezuela, polio vaccine projects. Audrey is appointed a Goodwill Ambassador for UNICEF.
Three years later, Audrey, having experienced severe abdominal pain, is diagnosed with a rare form of appendix cancer and told she has only three months to live.
"Such a valuable human being" is the only thing Robert is able to say.
For Christmas the Hepburn family fly home from Los Angeles, where Audrey had been receiving treatment. Givenchy charters a private plane for her and her family, filled with flowers. This would be his final gift. Once they are home, Audrey is too ill to eat, so she stays in bed whilst the rest of the family eat a quiet dinner downstairs. She tells her son Sean that it is the best Christmas of her life. This comes as quite a surprise. She explains it is because she was finally sure that she was loved.
On the 20 January 1993, Audrey dies peacefully in bed. Just before she dies, she whispers quietly to her son that she can see: "People in a field, quietly waiting…. You cannot understand. Maybe you'll understand later."
Audrey remains a paragon of beauty, a woman of inimitable style and talent, and above all as someone who believed in love, and the power of love to overcome even the darkest of forces. Although she was raised on very little love, her life plagued by loss, war, abandonment, she never gave in to fear or hatred; she fought to love, and be loved, and she succeeded.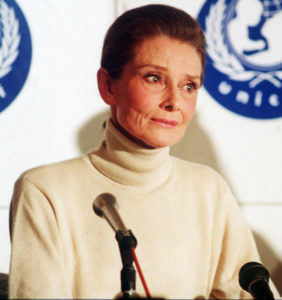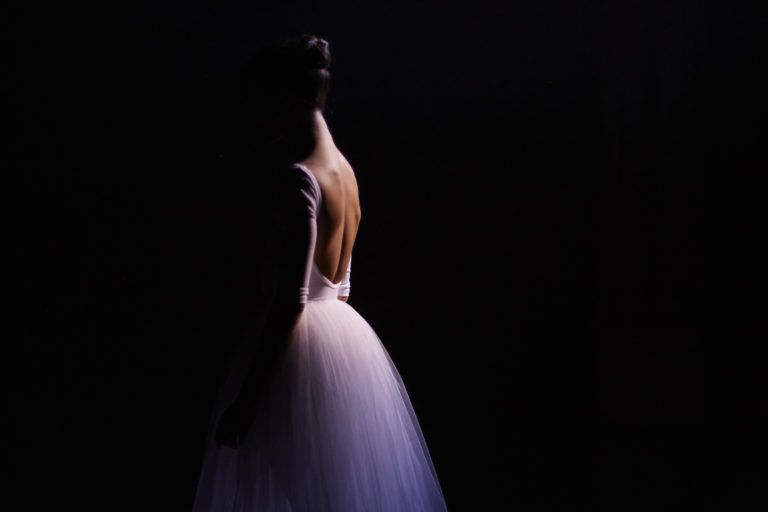 Writer/Director:
Helena Coan
Producers: Nick Taussig, Annabel Wigoder
Stars: Alessandra Ferri, Francesca Hayward, Keira Moore
"Silence may be the rust on the razor
that threatened to cut my throat, but it
was not my tongue they cut."
Release Date/

30th Nov 2020